Depending on the grade of severity, wrist sprain symptoms may vary from mild or moderate discomfort to severe pain with limited wrist movement. The symptoms of wrist sprains may be divided into commonly and less commonly seen.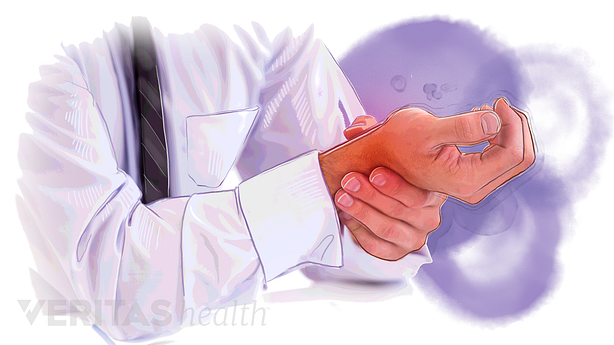 Common Symptoms of Wrist Sprains
Common symptoms of wrist sprains include one or more of the following:
Pain. Pain in a sprained wrist may vary from an intermittent dull ache to a sharp constant pain. The pain usually subsides after a few days, however, activities such as gripping or lifting with the hand may be painful until complete healing occurs. Hand twisting activities, such as opening a jar or doorknob may also be painful.
Swelling. The wrist may appear swollen. Swelling may occur due to collection of fluid in the joint and tissue spaces of the injured area. The amount of swelling usually depends on the severity of the sprain.
Stiffness and reduced flexibility. Stiffness in the wrist joint may be caused due to swelling and/or muscle spasms in response to the ligament injury. Decreased motion, especially while bending the wrist backward (extension) and during side-to-side movements may be experienced. Flexibility should improve gradually over time.
Joint weakness. Reduced grip and pinch strength with a general feeling of weakness in the sprained wrist may occur in moderate to severe wrist sprains. This symptom may be exacerbated by activities requiring pushing with the hand.
See What to Do When a Wrist Injury Occurs
The duration of symptoms usually depends on the type and severity of the wrist sprain. While some sprains usually heal in a few days, others may take weeks or months.
In This Article:
Less Common Symptoms of Wrist Sprains
The less common symptoms of wrist sprains may include:
Bruising. A bruise, also known as contusion, may form on the skin over the wrist due to rupture of blood vessels under the skin and leaking of blood into the tissue spaces. A change in color of the skin varying from red, black, or blue may occur due to bruising. Sometimes, bruising may extend to the fingers.
Warmth. A feeling of warmth over the sprained wrist may be present due to increased blood flow to the area.
Numbness. Numbness in one or more fingers may be experienced in cases where a wrist bone dislocates and presses on one or more nerves in the wrist.
Feeling of tearing. In some moderate to severe wrist sprains, popping or tearing may be felt at the time of injury. The tearing feeling may also occur during wrist movements.
Feeling of instability. Instability refers to a consistent click or clunk when moving the wrist. It can feel like the bones are shifting position and may be uncomfortable.
It is also possible for bone fractures, tendon damage, and/or nerve injuries to occur along with wrist sprains. A careful evaluation by a medical professional can help diagnose and treat wrist injuries.